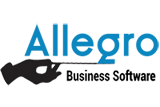 ... is a Czech company dedicated to IT services and cloud solutions
NewLink Moravia s.r.o. develops economic information systems and provides custom project implementations.
Since 1991 we operate on the Czech market as well as in Belgium and the Netherlands. On the two foreign markets we are partnering as Allegro Software NV/SA, a company in which we've joined forces with the Belgian supplier of the Popsy accounting software.
Almost 25 years of experience allowed us to develop the Allegro Framework, which since 2010 has been the main platform for all our products based solely on web technologies and cloud computing principles.
On Allegro Framework are based all our recent projects including our flagship product - Allegro Business Solution. It is an economic information system for small and medium-sized enterprises and is also ideal for accounting companies. Allegro Business Solution is a pure web application designed for easy control and offering the same degree of user friendliness as desktop programs do.
We are also well known for our support of legacy terminal-based solutions. Textual user interface applications we provide with Caster - our full-featured emulation of VT525, VT520,VT420 and VT320 terminals.